The best virtual courses for immersive Peruvian culture, society and language studies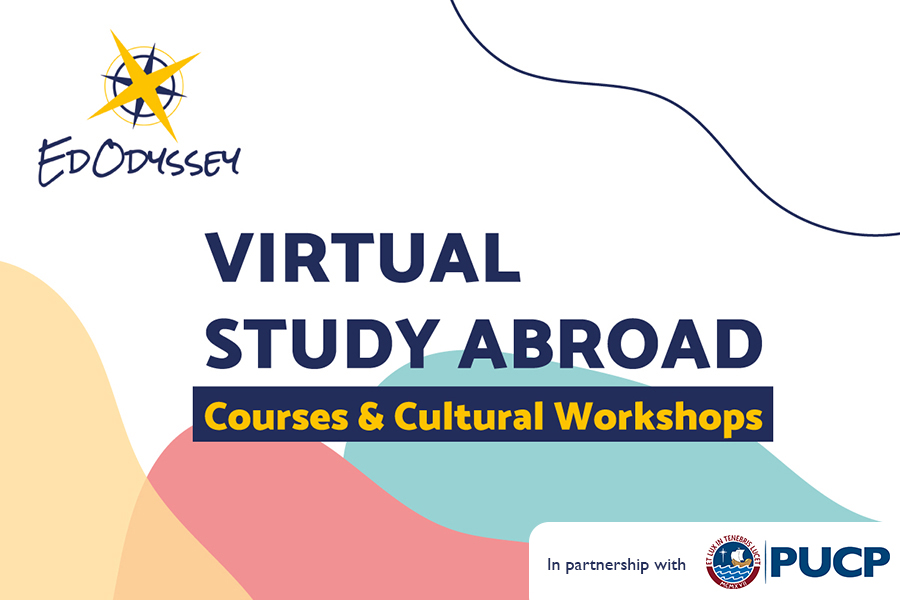 The international student exchange office of the prestigious Pontificia Universidad Católica del Perú (PUCP) is proud to present the available courses for international students for Spring Term 2021 (February – April), in conjunction with EdOdyssey's Virtual Study Abroad Program.
This program offers students the opportunity to authentically explore and learn about Peruvian culture while earning university credits from PUCP, from anywhere in the world! Choose from a selection of courses taught by PUCP professors.
Additionally, all students will participate in fun, weekly cultural modules supported by our local, bilingual and bicultural team to gain a deep insight into Peruvian culture and history through guest speakers, group discussion, a cooking lesson and more.
What is it?
This passport-free program centers around two equally important aspects:
Academic courses with PUCP.
Cultural workshops that EdOdysseys's local Peruvian team will lead.
Why register?
Through an authentic and holistic approach to academic and sociocultural knowledge, students will develop a deeper connection with Perú.
This synchronous, online program connects students to Peruvian culture through courses with expert professors and an experienced local team.
Highlights:
Academic Coursework with a Local Feel: All PUCP professors, who are experts in their content areas, provide students real insight and sociocultural context as they live and teach from Peru.
Wide Course Access: Students from over a dozen majors and minors from across all the courses can benefit from this passport-free program.
Live Sessions: All coursework is synchronous to receive in-person support from teachers (academic courses) and EdOdyssey local team (cultural workshops).
Small Class Setting: Classes only require a minimum of 10 students and only host 20 students maximum to enhance quality engagement.
Transcript Support: The Office of Institution Affairs Office at PUCP will support the arrangement of all official transcripts upon successful completion of coursework.
Meaningful Cultural Workshops: The Peruvian team from Peru will provide weekly sessions that provide students a holistic view of Peru and connect them to sociocultural aspects of Peruvian life, including dance, cooking, and more!
What courses are available for the Spring term 2021?
Peruvian history and culture:
This course aims to present an overview of the history of Peru, from the Pre-Columbian Period to the present day.
It presents a broad outline of Peru's political and economic development while focusing essentially on Peruvian culture, with particular regard to its Andean heritage.
Indigenous rights and Legal pluralism
This course contributes with reflection that focuses on the reality of Indigenous people, and above, an aim to recognize the possibilities of an adequate exercise of the collective rights of indigenous people. The program will have a global perspective and it will also center on Peru.
Public Health: General Concepts and Application in the Peruvian Context

The course focuses on traditional medicine and indigenous medicinal systems and their interaction with contemporary medical practices and policies in the Andean region.The course will cover issues of public health, medical practice and public policies (both: State and NGO) in relation to Peru and the Andean region in particular.
Pandemics, global history and Peruvian society:
This course analyzes the origins, social responses, state responses, and consequences of the major epidemics and pandemics that have occurred in modern history.
The course will have a global perspective and will pay special attention to Peru.
Spanish course:
This program offers two Spanish language courses:
Intermediate Spanish Language
Advanced Spanish Language
Both courses include grammar and conversation practice, and focus on improving the four main areas of language skills – listening, speaking, reading, and writing.
Learn more about all the available programs
Find out more about all the programs in Perú in the EdOdyssey's program site, or contact our e-mail: fieldschool@pucp.pe
Volver al listado de noticias